Education Case Studies - Seeking Teachers
How Teachers can introduce Amazing People to Students
A school in the UK and another in the USA, have introduced Christopher Columbus, Charles Darwin and Michelangelo to their students in a new way, via an avatar audio visual presentation. This is provided on a complimentary basis, by The Amazing People Club®, a publishing organization, for the purposes of research and development. Teachers can use the engaging audio visuals as the first five minutes start point of a class for student group discussions. To view how a session went, please see HERE.
How To Be Involved
For a limited period, we are offering FREE access to this sensational direct-to-classroom resource. Get started today and visit AMAZING PEOPLE WORLD, where you will meet Shakespeare, Pavarotti, Curie. Bring them into your classroom via avatars, as they tell their own stories. Embrace inspirational learning that connects topics with people and supports personal development HERE.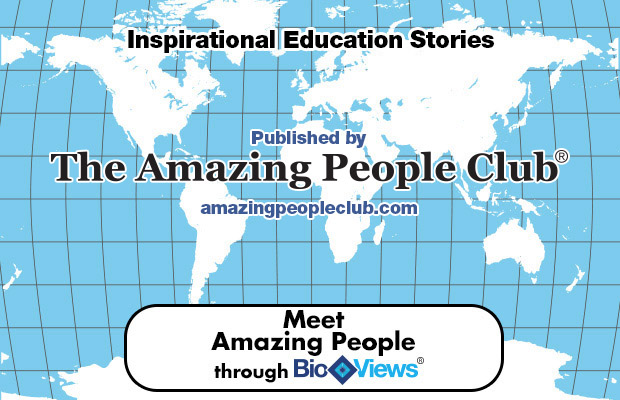 Resources
We will provide the following to assist teachers who wish to see what has already been done, so they can decide how to introduce amazing people to students in their lessons:-
Videos - Educator's information on the use of audio-visuals to create engaging and entertaining lessons. Teach amazing lessons and bring the classroom to life. See HERE
Teacher Information & Toolkit - We will make available, our resources that suggest how teachers could use BioViews in classroom applications. This will also be supported by an Amazing Teaching Strategies Toolkit for teachers to use at will, to facilitate group discussions. See HERE.
Audios - We will provide an interview with Dr Charles Margerison, an educational psychologist and the author of the series. See HERE.
Articles - There will be a series of articles that teachers can read that cover educational applications. Samples can be viewed HERE
Continuing Professional Development – The Amazing People Club will provide educators with documentation, as proof of participation in the development of our multi-media classroom resources.
Amazing People World - The website will be developed continually, so that teachers can choose from a wide variety of categories, covering many topics and cultures around the globe.
We look forward to gaining the views of teachers and students on the classroom applications, so that we can further develop the series. Please email the undersigned, to receive log in information.
Regards, Marion Andersson, Education Development Co-ordinator.
www.amazingpeopleclub.com | Email - marion@amazingpeopleclub.com