Education eBooks for iPad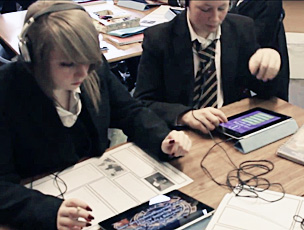 Would you like to hear Shakespeare tell you about his life and work? Or listen to Michelangelo describe what motivated him to create such masterpieces?
This new, multimedia range of eBooks, takes full advantage of iPad technology, and engages readers through video, audio, image and text. Avatar software brings learners "face to face" with amazing people, who have made major contributions to important fields such as art, exploration, business, politics and science.

Educational eBooks for iPad

This new range offers...
Tried and tested resources that engage students in a new way.
Unique inspiration and insight on how students can use their talents, to overcome challenges and achieve success.
A personal connection with amazing people who influenced school-taught subjects.
An engaging way to support inspirational learning and career development.
Resources that can be used cross-curricular to springboard students into an extensive range of topics and subjects.
A series of classroom support materials and teacher resources to support the use of iPads in the classroom.
Please see how students at Castle Vale State High School, in the UK reacted when they came 'face to face' with Christopher Columbus on their iPads.
Further Information
To find out more about the Amazing People Club, please visit our About Us page. To gain access to our Amazing People Teacher toolkit, packed with class starters, activities and plenaries, please visit our Education page. To become involved in our other direct-to-classroom resources, be sure to check out our Education Case Studies.
These products are available via iTunes, or by clicking on the individual products below. We sincerely hope that you enjoy the range as we continue to launch new titles. If you have any questions, please to not hesitate to contact us.