Amazing Aviators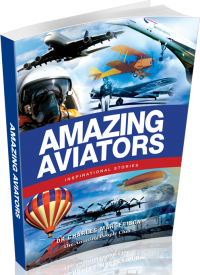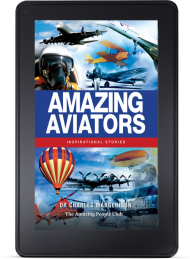 Description
By Dr Charles Margerison
As the world becomes smaller and air travel more commonplace, do we always remember those amazing people whose bravery and vision has made it possible for us to travel around to the far ends of the earth? In this unique collection of inspirational stories from The Amazing People Club®, take a fascinating flight through the lives of some of the world's most celebrated aviators!
From the great dreams of Joseph Montgolfier, inventor of the hot-air balloon, to the incredible innovations of the Wright Brothers, whose work on bicycles inspired them to invent a system of controlling aircraft; the principle of which is still used today. From the bravery and pioneering spirit of Amelia Earhart to the tenacious spirit of Yuri Gagarin, there is much to be learnt from the lives of these amazing people who all played key roles in the history of aviation. Experience the excitement of great aviation breakthroughs in this unique collection of amazing stories. Travel with Frank Whittle, who developed the jet engine. Learn how Igor Sikorsky created the helicopter. Find out how aviation engineers and brave pilots created the airline industry. These stories all come alive through BioViews®.
A BioView® is a short biographical story, similar to an interview, about an amazing person. These stories offer an inspirational way of learning about people who made major contributions to our world. The unique format and flow enables each person's story to come alive, as if it is being personally told to you, and reflects their interests, emotions and passions.
Featured BioViews®
Jacqueline Auriol - Aviation Jet Champion & Military Pilot - France
Douglas Bader - Military Pilot - England
Louis Bleriot - Inventor, Aviator & Engineer - France
William Boeing - Founder of Boeing Company - USA
George Cayley - Aeronautics Engineer - England
Helene Dutrieu - Record Breaking Aviatrix - Belgium
Amelia Earhart - Record Breaking Aviatrix - USA
Yuri Gagarin - Cosmonaut & Military Pilot - Russia
Howard Hughes - Aviator & Entrepreneur - USA
Amy Johnson - Record Breaking Aviatrix - England
Charles Kingsford Smith - Record Breaking Pilot - Australia
Raymonde de Laroche - Record Breaking Aviatrix - France
Charles Lindbergh - Aviator, Author & Explorer - USA
Joseph Montgolfier - Inventor & Balloonist - France
Richard Pearse - Aircraft Developer & Pilot - New Zealand
Igor Sikorsky - Helicopter Developer - Ukraine
Katherine Stinson - Exhibition Aviatrix & Architect - USA
Bram van der Stok - Military Pilot - Netherlands
Leonardo da Vinci - Designer & Inventor - Italy
Samuel Walton - Retail Entrepreneur & Pilot - USA
Frank Whittle - Jet Engine Developer - England
Wright Brothers - Inventors & Plane Manufacturers - USA
Ferdinand von Zeppelin - Airship Developer - Germany