Amazing Doctors & Nurses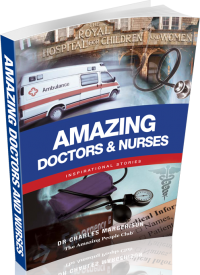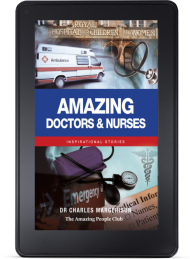 Description
By Dr Charles Margerison
Ever wondered who developed insulin? Or, who completed the first heart transplant? Explore the inspiring lives of some of the most amazing doctors and nurses. Gain an insight into the lives they led and the challenges they faced. We have all relied on doctors and nurses at various points during our lives. However, the great stories behind so many important and influential achievements remain unknown. This book explores how doctors and nurses have developed their remarkable skills and methods to help patients, supported by researchers in many fields.
Explore the life stories of an amazing range of characters including Florence Nightingale, Elizabeth Blackwell, Ignaz Semmelweis and Che Guevara. These people paved the way for modern medicine and saved countless lives by advancing the boundaries of treatment. Their great stories come back to life through a new story format called a BioView®. It is as if these amazing doctors and nurses returned through time to tell the story of their life and their amazing achievements.
What is a BioView®?
A BioView® is a short biographical story, similar to an interview, about an amazing person. The stories can be read in around ten minutes. They provide an easy way of learning about people who made major contributions to our world. The unique format and flow enables each person's story to come alive, as if it is being personally told to you and reflects their interests, emotions and passions. These are unique life stories that can provide you with inspiration in your own life.
Featured BioViews®
Christiaan Barnard - First Heart Transplant Surgeon - South Africa
Elizabeth Blackwell - First Female Doctor - England
Richard Bright - Physician and Kidney Researcher - England
Edith Cavell - First World War Nurse - England
Elizabeth Garrett - Founder of The Women's Hospital - England
Ernesto Che Guevara - Physician and Revolutionary Leader - Argentina
William Harvey - Anatomy and Blood Researcher - England
Edward Jenner - Pioneer of Small Pox Vaccination - England
Robert Koch - Anthrax and Tuberculosis Research - Germany
James Lind - Naval Physician and Researcher - Scotland
Joseph Lister - Surgeon and Anti-Sepsis Research - England
Florence Nightingale - Crimean War Nurse - England
William Osler - Medical Educator - Canada
Margaret Sanger - Women's Health Organizer - USA
Albert Schweitzer - Musician and Physician - France / Germany
Ignaz Semmelweis - Hygiene Physician - Hungary
Irena Sendler - Second World War Nurse - Poland
Kato Shizue - Women's Health Politician - Japan
James Simpson - Anaesthetist - Scotland
John Snow - Obstetrician and Epidemiologist - England
Benjamin Spock - Physician, Writer and Political Activist - USA
Mary Walker - Civil War Doctor - USA
Priscilla White - Diabetes Specialist - USA
Alexandre Yersin - Physician and Bacteriologist - Switzerland