Amazing Love Stories - Volume 1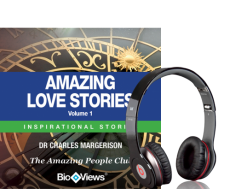 Description
By Dr Charles Margerison
What is it that makes one person fall in love with another? Explore this eternal question through this great collection of short audio stories. You will discover the love stories behind two of the world's most amazing couples - William Shakespeare and his wife Anne Hathaway, and Thomas Jefferson and his little-known mistress Sally Hemings.

Two very different relationships; these stories offer new perspectives on them both, revealing what drew these people together and what pulled them apart. They also offer a new perspective on the achievements of Jefferson and Shakespeare, through this unique insight into the lives of the women who influenced them and whom they loved.

Each story comes to life through BioViews®. These are short biographical narratives, similar to interviews. These unique stories provide an easy way of learning about amazing people who made major contributions and changed our world.
Featured BioViews®
Anne Hathaway
William Shakespeare
Sally Hemmings
Thomas Jefferson