Amazing Musicians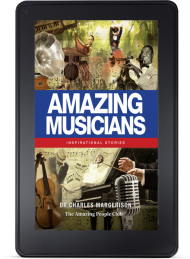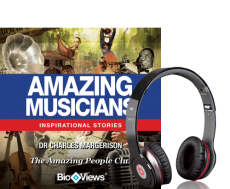 Description
By Dr Charles Margerison
It is often said that music is a universal language, and our greatest musicians have succeeded in reaching the stars. Do you dream of following in their footsteps?
Take a fascinating trip through the lives of some of the world's most celebrated musicians, and find out what it takes to touch the hearts of millions through music.
In this unique collection of inspirational stories from The Amazing People Club®, discover the sacrifices John Lennon had to make to realize his dream. Read the story of a poor Jewish boy called Asa Yoelson, who hailed from the Russian Empire and defied prejudice to become Al Jolson, 'The World's Greatest Entertainer'. Find out whether Édith Piaf truly had 'No Regrets'!
Every successful musician has an incredible story to tell. Join Callas, Piaf, Lennon, Jolson, Sinatra and a host of other influential and talented musicians as they share with you their secrets and invite you on an unforgettable journey through their fascinating musical lives. A BioView® is a short biographical story, similar to an interview, about an amazing person. These stories offer an inspirational way of learning about people who made major contributions to our world. The unique format and flow enables each person's story to come alive, as if it is being personally told to you, and reflects their interests, emotions and passions.
Featured BioViews®
Louis Armstrong - Jazz Musician and Singer - USA
Johan Sebastian Bach - Composer and Organist - Germany
Ludwig van Beethoven - Composer - Germany
Irving Berlin - Composer and Lyricist - USA
Maria Callas - Singer - USA/Greece
Pablo Casals - Cellist and Conductor - Spain
Ella Fitzgerald - Singer and Actress - USA
George Gershwin - Composer and Pianist - USA
Lil Hardin - Singer - Australia
Al Jolson - Singer and Actor - USA
John Lennon - Guitarist, Singer & Composer - England
Nellie Melba - Singer - Australia
Glenn Miller - Bandleader and Composer - USA
Wolfgang Amadeus Mozart - Composer & Concert Performer, Austria
Luciano Pavarotti - Singer - Italy
Edith Piaf - Singer - France
Perez Prado - Bandleader & Singer - Cuba
Elvis Presley - Singer & Actor - USA
Frank Sinatra - Singer & Actor - USA
Johan Strauss II - Composer, Violinist & Conductor - Austria
Arthur Sullivan - Composer & Conductor - England
Pyotr Ilyich Tchaikovsky - Composer & Pianist - Russia
Giuseppe Verdi - Composer - Italy
Antonio Vivaldi - Composer & Teacher - Italy