Amazing Olympians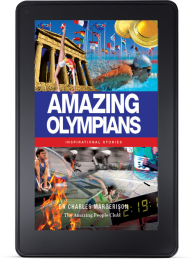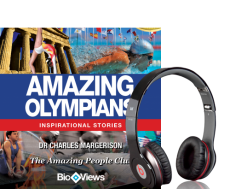 Description
By Dr Charles Margerison
There is no event like the Olympic Games. The athletes who compete are amazing in their ability to attain world-class standards and their drive to be the best, as they strive to beat their competitors and defy physical limitations and records on a global stage. These individuals are an example to all of us, and each of the Amazing Olympians in this book has an amazing story to tell.
In this unique story collection, take a fascinating trip through the lives of some of the world's most celebrated Olympians!
Meet Fanny Blankers-Koen, 'the flying housewife', who had great success as an athlete in the face of prejudice against her age, and refused to conform. Discover the story of George Eyser, who overcame the loss of his leg in an accident, going on to win six medals in a day. Hear how Jesse Owens, the most successful athlete of the 1936 German Olympics, was snubbed by Adolf Hitler because of his colour, and how Johnny Weismuller went from Olympic success to a career in Hollywood. Join all of these inspirational Olympians, and many others, as their stories come to life through BioViews®.
A BioView® is a short biographical story, similar to an interview, about an amazing person. These stories offer an inspirational way of learning about people who made major contributions to our world. The unique format and flow enables each person's story to come alive, as if it is being personally told to you, and reflects their interests, emotions and passions.
Featured BioViews®
Socrates - Greece - Philosopher
Evangelos Zappas - Greece - Founder of Modern Olympic Games
William Penny Brookes - England - Founder of the UK Olympics
Pierre de Coubertin - France - First Olympic Games President
Spyros Louis - Greece - First Marathon Winner
Charlotte Cooper - England - First Female Olympic Title Holder
Oscar Swahn - Sweden - Oldest Olympic Competitor
Sonja Henie - Norway - Female Skater & Gold Medalist
Jesse Owens - USA - Winner of Four Gold Medals
Fanny Blankers-Koen - Holland - Multi Gold Medal Winner
George Eyser - USA - First Disabled Gold Medalist
Henry Taylor - England - Winner of Three Gold Medals
Paavo Nurmi - Finland - Winner of Twelve Medals
Johnny Weissmuller - Romania & USA - Winner of Five Gold Medals