Amazing Olympic Stories - Vol 2 - A Multimedia Textbook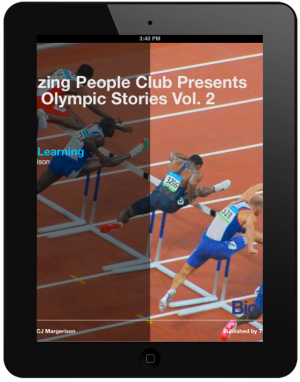 Description
By Dr Charles Margerison
The second in a series of three multimedia textbooks from The Amazing People Club®, Amazing Olympic Stories - Volume 2 explores a new collection of Amazing Olympic Stories and continues the interactive journey through Olympic history. Each chapter explores the life stories of different amazing people who played key roles in the history of the Olympic Games.

Meet Spyros Louis and watch him literally "come to life" as he describes how he came to win the first Olympic Marathon, which he ran in the ancient town of Marathon. Come "face to face" with Oscar Swahn from Sweden who remarkably won his first Olympic gold medal when he was 60 and continued to compete and win medals until he was 72, making him the world's oldest competing Olympic athlete.

Discover the amazing story of Charlotte Cooper, the first woman to win an Olympic title, which happened at the 2nd Olympiad in Paris. It was the first time women had been allowed to compete in the Olympics and she didn't actually receive her medal until four years later. Also featured is the amazing story of Sonja Henie, who won Olympic Gold in Women's Figure Skating while still a teenager, and went on to become a film star in Hollywood.

This content-rich interactive textbook includes a range of engaging and educational multimedia elements that support inspirational learning. Marvel at photographs of events from Olympic Games past, be amazed as avatars of each of the featured amazing people come to life, listen to atmospheric audio stories and get a sense of the history of the Games with a unique Olympic timeline. Also included is an informational section on the Games, which includes details about Olympic traditions and symbols. An interactive quiz at the end of each chapter enables you to test your new knowledge about the Olympic Games.

The stories are revealed through educational BioViews®, which are short biographical stories, similar to interviews. They have been enhanced with a range of multimedia resources, which will engage readers and support inspirational learning. Multimedia textbooks from The Amazing People Club® provide a new way of learning about amazing people who made major contributions to our world.
Featured BioViews®
Spyros Louis
Oscar Swahn
Charlotte Cooper
Sonja Henie
Jesse Owens