Amazing Olympic Stories - Vol 3 - A Multimedia Textbook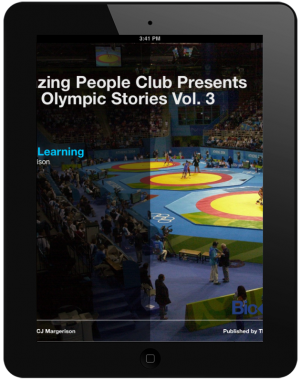 Description
By Dr Charles Margerison
The third in a series of three multimedia textbooks from The Amazing People Club®, Amazing Olympic Stories - Volume 3 explores a further range of Amazing Olympic Stories and continues the interactive journey through Olympic history. Each chapter explores the life stories of different amazing people who played key roles in the history of the Olympic Games.
Meet Fanny Blankers-Koen, also known as the "Flying Housewife", who won numerous Olympic medals and was a trailblazing role model for female athletes around the world. She raised a family and went on to be awarded "Female Athlete of the Century." Discover the inspirational story of George Eyser who was the first disabled person to win an Olympic medal. He lost his leg in a train accident but trained to compete with a prosthetic wooden leg and went on to win gold medals in a number of gymnastic events. Henry Taylor's amazing Olympic story will inspire aspiring athletes everywhere. Orphaned in his early years, his brother taught him to swim in a canal in Lancashire. He swam in his first race when he was only seven years old and won three gold medals at the London Summer Olympic Games in 1908. He is an amazing example of the success that practice and commitment can bring.
Johnny Weissmuller is famous for his role in the Tarzan and Jungle Jim films but few people know that he arrived on at ship at Ellis Island with his parents who were seeking a better life. He started swimming as a way of recovering from polio and discovered a special talent, which carried him on to win five Olympic Gold Medals. By contrast, it was sub-zero temperatures in Finland rather than illness that inspired Paavo Nurmi to start running and discovering his talent, he went on to win numerous Olympic gold medals around the world. His is an equally amazing story.
This multimedia textbook includes a range of engaging and educational elements that support inspirational learning. Marvel at photographs of events from Olympic Games past, be amazed as avatars of each of the featured amazing people come to life, listen to atmospheric audio stories and get a sense of the history of the Games with a unique Olympic timeline. Also included is an informational section on the Games, which includes details about Olympic traditions and symbols. An interactive quiz at the end of each chapter enables you to test your new knowledge about the Olympic Games.
The stories are revealed through educational BioViews®, which are short biographical stories, similar to interviews. They have been enhanced with a range of multimedia resources, which will engage readers and support inspirational learning. Multimedia textbooks from The Amazing People Club® provide a new way of learning about amazing people who made major contributions to our world.

Featured BioViews®
Fanny Blankers-Koen
George Eyser
Henry Taylor
Johnny Weissmuller
Paavo Nurmi