Amazing People of Australia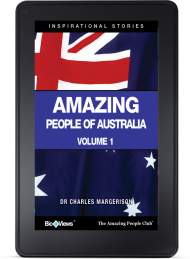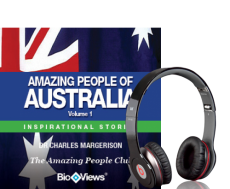 Description
By Dr Charles Margerison
Australia has developed to become a model multi-ethnic society. In this collection of life stories from The Amazing People Club, you can gain an insight into how some amazing Australians set the scene and contributed to the country we fondly refer to as Downunder.
Embark on a thrilling flight of discovery with Charles Kingsford Smith. His courage, competitive spirit and daring sense of adventure led to him being regarded as one of the highest achievers in the history of aviation. Be inspired by the entrepreneurial talent of James Harrison who invented the refrigerator which has become a necessity in our homes of today. Be captivated by the tumultuous events in the life of Nellie Melba, a self-driven diva who achieved great success and became one of Australia's most celebrated sopranos of all time. Meet these and several other amazing Australians who in their own unique ways, seized opportunities that led to great successes.
Each story comes to life through BioViews®. These are short biographical narratives, similar to interviews. They provide an easy way of learning about amazing people who made major contributions and changed our world.
Featured BioViews®
Henry Cable
Howard Florey
James Harrison
Susannah Holmes
Charles Kingsford Smith
Nellie Melba
Charles Nelson Perkins