Amazing People of England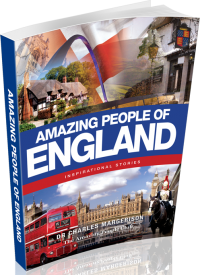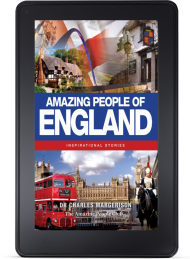 Description
By Dr Charles Margerison
England, throughout its history, has been the birthplace of countless inspirational people. Some have become household names around the world. Many more deserve to be, but are as yet unsung heroes. In this unique story collection from The Amazing People Club®, take a journey through the lives of some of England's most amazing people.
Meet Ada Lovelace, the world's first computer programmer, from the mid 19th Century! Learn the life events that propelled Shakespeare and Dickens to their literary pinnacles and subsequent fame. Find out how Thomas Newcomen invented the first practical steam engine, and how Francis Crick, the molecular biologist, became the co-founder of the structure of the DNA molecule, thus discovering 'the secret of life'!
Join all these amazing people and many more as they tell their own stories through BioViews®. A BioView® is a short biographical story, similar to an interview, about an amazing person. These stories offer an inspirational way of learning about people who made major contributions to our world. The unique format and flow enables each person's story to come alive, as if it is being personally told to you, and reflects their interests, emotions and passions.
Featured BioViews®
Elizabeth Blackwell - Doctor
Jesse Boot - Pharmacy Retailer
Isambard Brunel - Engineer
Winston Churchill - Politician and Author
Francis Crick - Scientist
Oliver Cromwell - Military and Political Leader
Charles Darwin - Scientist
Humphry Davy - Scientist
Charles Dickens - Writer
Queen Elizabeth I - Queen of England and Ireland
Michael Faraday - Scientist
Elizabeth Garrett - Doctor
Amy Johnson - Aviator
William Lever - Businessman and Philanthropist
Joseph Lister - Doctor
Ada Lovelace - Mathematician and Author
Thomas Newcomen - Engineer
Isaac Newton - Scientist
Florence Nightingale - Nurse
Emmeline Pankhurst - Suffragette Women's Rights Leader
William Shakespeare - Playwright and Poet
John Simpson - Prison Jailer
John Snow - Doctor
Arthur Sullivan - Musician
Queen Victoria - Queen of Great Britain and Ireland
Christopher Wren - Architect