Amazing People of London - Vol 1 - A Multimedia Textbook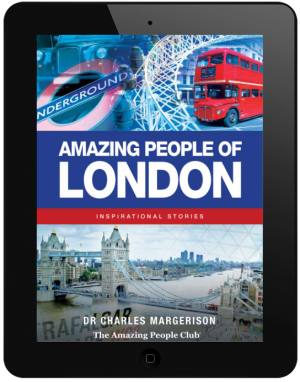 Description
By Dr Charles Margerison
As you walk around historic London, you are traveling in the footsteps of amazing people including Charles Dickens, William Shakespeare, Florence Nightingale, Queen Victoria and Charles Barry. In different ways, they made major contributions to London, which helped shaped one of the world's most visited cities. This multimedia textbook from The Amazing People Club® features amazing people who become personal tour guides through London's rich history.
Meet William Shakespeare and watch him literally "come to life" as he describes why he ventured to London and what he found when he got there. Discover his amazing story in an entirely unique way as he talks about his family life, the inspiration for his plays and details about life in the capital. Interactively explore The Globe through a series of fascinating photos and be enthralled by his full audio story, which is also included. Discover the life story of Charles Dickens, another world-famous literary genius, who actually started his life as a child laborer in London, working 15-hour days. Dickens novels provided an important social commentary.
Meet Florence Nightingale, also known as The Lady with the Lamp. From a very young age, she was on a mission to care for others. She laid the foundations for the first nursing school and demonstrated amazing courage during the Crimean War, taking care of countless injured soldiers. Her amazing life story comes to alive through video, audio story and fascinating photos that illustrate many of the aspects of her life. Queen Victoria's life could not have been more different to Florence Nightingale's but was also full of challenges and amazing achievements. Follow her through her reign, which started when she was just 18 years of age. Listen to her reflect on the construction of Buckingham Palace, the death of her husband as well as the challenges of leading the British Empire. Finally come "face to face" with Charles Barry, another amazing but lesser-known Londoner who was responsible for the construction of The Houses of Parliament, one of London's best-known landmarks.
This multimedia textbook about London includes a range of engaging and educational multimedia elements that support inspirational learning. Marvel at old photographs of the city which has changed so dramatically, be amazed as avatars of each of the featured amazing people come to life, listen to atmospheric audio stories and get a sense of the history of London using timelines of each person's life. Also included is an informational section that includes London's historical timeline that runs from the Roman's invasion in 43AD until 2012. An interactive quiz at the end of each chapter enables you to test your new knowledge about London and its amazing people.
Featured BioViews®
William Shakespeare
Charles Dickens
Florence Nightingale
Queen Victoria
Charles Barry