Amazing People of Paris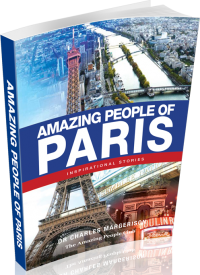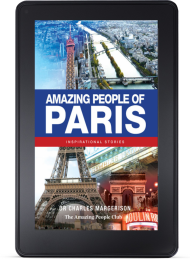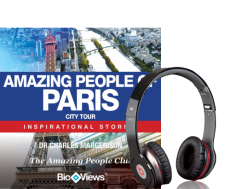 Description
By Dr Charles Margerison
Have you ever wondered how the Eiffel Tower was built? Or, what it would have been like to wander the streets of Montmartre a hundred years ago and meet people like Edith Piaf and the famous painters? As you walk around the City of Light, you are travelling in the footsteps of inspiring people including Napoleon Bonaparte, Voltaire, Victor Hugo, Toulouse-Lautrec and Gustave Eiffel. In different ways, all of these amazing characters made major contributions, making the city of Paris what it is today.
A city tour unlike any other, Amazing People of Paris takes you on a fascinating journey with these icons of one of the world's most visited cities. You will meet those who contributed to the music, the art, the architecture, the politics and other vital aspects of the city's life. Come face to face with those who developed the Arc de Triomphe, Notre Dame Cathedral, the Louvre, the Tuilleries Gardens and other great places. Walk around the city with the stories of the people who created the sites we love to visit.
What is a BioView®?
Your tour of the people and places of Paris comes alive through BioViews®. A BioView® is a short biographical story, similar to an interview. These unique stories provide an easy way of learning about amazing people who made major contributions and changed our world.
Featured BioViews®
Parisii – Tribal Leader
Julius Caesar – Roman Leader
Saint Denis – Priest
Saint Genevieve – Nun
Clovis – King of the Francs
Charles Martel – Military Leader
Charlemagne – King of the Franks
Hugh Capet – King of France
Maurice de Sully – Bishop of Paris
Robert de Sorbon – Founder of the Sorbonne College
Etienne Marcel – First Mayor of Paris
Claude Sanson – Public Servant
Francois I – King of France
Christian Blanc – Huguenot Refugee
Jacques Deloitte – Businessman
Cardinal Duc de Richelieu – Cardinal and First Minister
André le Notre – Gardener and Architect
Louis XIV – King of France
Voltaire – Writer
Michel Turgot – Master of Merchants
Louis XVI – King of France
Jean-Sylvain Bailly – Mayor of Paris
Yvette Bouvier – Mother of the Revolution
Gaston Dupres – Convict
Madame Lavoisier – Chemist and Editor
Joseph Montgolfier – Aviator
Napoléon Bonaparte – First Emperor of France
Louis Braille – Inventor
Louis Napoleon Bonaparte – President and Emperor of France
Baron Georges Eugène Haussmann – Civic Planner and Director
Marie LaChapelle – Obstetrician
Eugène Belgrand – Civil Engineer
Louise Michel – Leader of the Paris Commune
Claude Monet – Artist
Charles Garnier – Architect
Victor Hugo – Politician and Writer
Gustave Eiffel – Design Engineer and Developer
Pierre de Coubertin – Founder of International Olympic Committee
Henri Toulouse-Lautrec – Artist
Jacques Prévert – Writer
Eugène Hénard – City Architect
Georges Clemenceau – Political Leader
Pierre Brossolette – Resistance Fighter
Edith Piaf – Entertainer
Jacqueline Auriol - Aviatrix
Coco Chanel – Business Entrepreneur
Maurice Chevalier - Entertainer
Simone de Beauvoir – Writer
Claire Dupont – Tourist