Amazing Women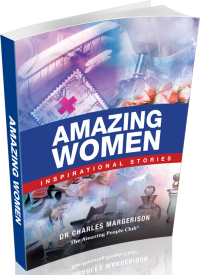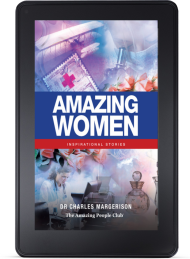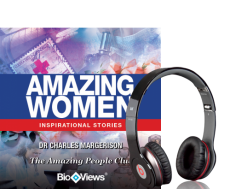 Description
By Dr Charles Margerison
Who was the first woman to qualify as a doctor? Who is the only woman to have won two Nobel Prizes? Explore these and other great stories in Amazing Women. In this unique story collection from The Amazing People Club, the real lives of iconic women including Coco Chanel, Sojourner Truth, Edith Piaf, Marie Curie and Helen Keller, come to life. Understand their real lives and challenges and be inspired by what they did and how they achieved it. This is a must-read for every woman seeking motivation.
The women in this title were trailblazers. Their stories are a source of inspiration and offer an interesting and easy way to learn from those who have made major contributions to our world. Discover how these amazing women lived, loved and worked in their own distinct ways. We can learn key lessons from each one of them. In particular, their achievements were a result of their determination to continue on, regardless of how difficult the journey. They believed in what they had to offer, and used their time well.
Meet some of the world's most amazing women through BioViews®. A BioView® is a short biographical story, similar to an interview. These unique stories provide an easy way of learning about amazing people who made major contributions to our world and can help you achieve your ambitions in your journey through life.
BOOK REVIEW by Cindy Taylor
Excerpt - "Amazing Women provides an effective tool for people to learn without feeling overwhelmed. What a wonderful inspiration to women of all ages everywhere in the world but especially to the up and coming female success stories. Anyone lacking in confidence, but especially females, can read this book and come away with the knowledge that any dream is possible. I would love to see this book in the school systems to be utilized as a tool to encourage girls who don't have the courage to chase their dreams. Turning the last page of this book, I was left with the knowledge that the battle was worth it and must continue! "
Featured BioViews®
Nancy Astor - Politician - USA and UK
Elizabeth Blackwell - Doctor - UK and USA
Edith Cavell - Nurse - UK
Coco Chanel - Fashion Entrepreneur - France
Caroline Chisholm - Colonial Social Worker - UK and Australia
Marie Curie - Scientist - Poland and France
Emilie du Chatelet - Writer - France
Sally Hemings - Slave - USA and France
Susannah Holmes - Convict and Colonist - UK and Australia
Madame Lavoisier - Editor - France
Augusta Ada Lovelace - Software Developer - UK
Elizabeth Macarthur - Colonial Farmer - UK and Australia
Golda Meir - Politician - Belarus, USA and Israel
Maria Montessori - Educator - Italy and India
Mother Teresa - Nun and Social Worker – Albania and India
Florence Nightingale - Nurse - UK
Emmeline Pankhurst - Women's Rights Activist - UK
Eva Peron - Entertainer and Politician - Argentina
Edith Piaf - Musician - France
Maria Poliakova - Spy - Russia
Irena Sendler - Nurse - Poland
Kato Shizue - Health Organizer – Japan
Sojourner Truth – Slave and Civil Rights Leader – USA
Harriet Tubman - Civil Rights Leader- USA