Christopher Columbus Educational eBook for iPad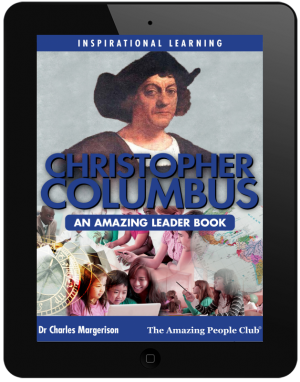 Description
By Dr Charles Margerison
Explore the life of an amazing explorer, colonizer and navigator in this interactive eBook from The Amazing People Club®. Christopher Columbus discovered new worlds and his BioView® reveals how he did it and why. Join him on a sensational journey through his life and amazing expeditions. Celebrate the discovery of the Americas and get an insight into how and why he did what he did. Columbus was the first European, since the Vikings, to discover the New World, without the assistance of a compass or an accurate map. He was a passionate pioneer who led the way for other explorers that followed in his footsteps. His voyages spread Christian religion, enabled great leaps forward in the field of navigation and had an enormous effect on the history of the Western World.
This book also features a range of engaging and educational elements that support inspirational learning. Explore an interactive map of Columbus' travels, browse a fascinating photo archive that visually documents his life and gain a useful overview of his life using his timeline. Come face to face with Columbus through avatar software which features throughout the book and enjoy a dramatized audio adaptation of his story which is also featured. An interactive quiz at the end of each chapter enables you to test your new knowledge on the amazing life of Christopher Columbus.
Educational BioViews® are short biographical stories, similar to interviews. Titles from the Amazing Leader series offer a new way of learning about amazing people who made major contributions to our world.
Featured BioViews®
Christopher Columbus