Harriet Tubman Educational eBook for iPad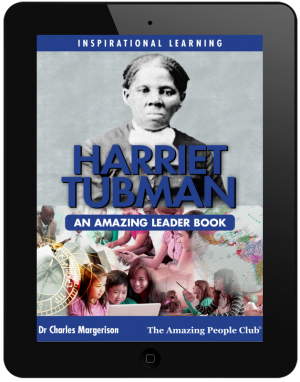 Description
By Dr Charles Margerison
In this interactive eBook from The Amazing People Club®, gain a unique insight into the amazing life of Harriet Tubman, who suffered horrific abuse whilst in slavery, until she escaped and set about rescuing slaves using an antislavery activist network known as the Underground Railroad. Black History Month is celebrated every February; however, few know the stories behind her fight for freedom. Harriet Tubman was an amazing woman and civil rights leader. Nicknamed 'Moses', her brave and heroic efforts were so significant in the fight against slavery. Her campaign for women's rights was trailblazing and nothing short of inspirational. Instead of enjoying her freedom in safety, she became the first woman to lead an armed Union Army expedition. She is famed for the raid on the Combahee River which led to the freeing of over 700 slaves. Come "face to face" with Harriet Tubman and get an insight into an amazing woman who made so many important contributions to the civil Rights movement.
The book features a range of engaging and educational elements that support inspirational learning. Come face to face with Harriet Tubman through animation that breathes life into her amazing story, browse a fascinating photo archive that visually documents her life and offers a unique insight into what her life may have looked like. An audio adaptation of her story is also included within the book as well as a range of interactive study notes and activities. A quiz at the end of each chapter enables you to test your new knowledge on her amazing life.
Educational BioViews® are short biographical stories, similar to interviews. Titles in the Amazing Leader Series offer a new way of learning about amazing people who made major contributions and changed our world.
Featured BioViews®
Harriet Tubman