Michelangelo - A Multimedia Textbook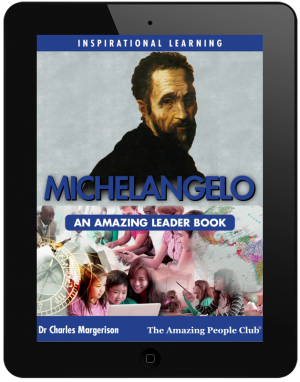 Description
By Dr Charles Margerison
In this multimedia textbook from The Amazing People Club®, discover the inspirational life story of artist Michelangelo in an entirely new way. Watch him literally "come to life" as an avatar as he talks about the key chapters in his life. Learn about his early works, the start of his career, the people who influenced and inspired him and the challenges that he faced, and ultimately overcame, to become one of the world's most celebrated artists. He was a master of Renaissance art from a young age. From his first commissions finishing marble statues in Bologna, to masterpieces that include the Statue of David and the ceiling of the Sistine Chapel, Michelangelo's artistic contributions are unrivalled.
This interactive textbook also includes a range of engaging and educational media resources. Explore an interactive version of the Sistine Chapel ceiling, view stunning photographs of Michelangelo's most influential works and explore some of the stunning places throughout Italy, which became inspirational backdrops to his work. A multiple choice quiz is also included that enables readers to test their new knowledge about the artist.
Michelangelo's story is revealed through his educational BioView®, which is a short biographical story, similar to an interview. It has been enhanced with a range of multimedia resources, which will engage readers and support inspirational learning. Multimedia textbooks from The Amazing People Club® provide a new way of learning about amazing people who made major contributions to our world.
Featured BioViews®
Michelangelo