William Shakespeare Educational eBook for iPad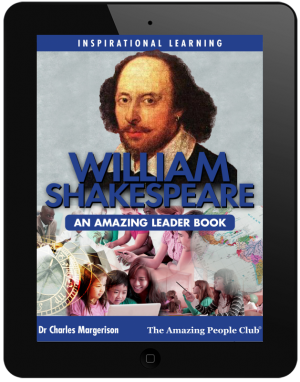 Description
By Dr Charles Margerison
One of the greatest and most influential writers of all time, William Shakespeare was born to a very different world than the one we live in today. In this interactive iBook, come face to face with William Shakespeare and take a look into the life and times of this gifted writer, playwright, poet and actor in an entirely new way. Explore how he came to stage his magic at The Globe Theatre in London. Take a personal look at his relationship with Anne Hathaway and better understand how their relationship influenced his life. He was a passionate and resolute young man who worked hard to achieve success and followed his dreams. His story is nothing short of inspirational and his legacy still lives on in theatres all over the world today.
This book also features a range of engaging and educational elements that support inspirational learning. Browse a fascinating photo archive that visually documents Shakespeare's story and gain a useful overview of his life using his timeline. Enjoy a dramatised audio adaptation of his story which brings it to life in a unique way. Work through a series of fascinating study notes and complete a number of interactive activities to better understand what you have learnt. An interactive quiz at the end of each chapter enables you to test your new knowledge on the amazing life of William Shakespeare.
Educational BioViews® are short biographical stories, similar to interviews. Titles from the Amazing Leader Series offer a new way of learning about amazing people who made major contributions to our world.
Featured BioViews®
William Shakespeare